There is one release that almost made it to Banzai, and it is the first and only official album by Montreal band Deaf Dealer - Keeper of the Flame. Michel Meese, Banzai's president, was their manager. But since Banzai was mostly known for licensing albums from other labels, he felt that releasing the album on Polygram's subsidiary Mercury would push the band as a more serious contender in the metal community. It was licensed to Metal Blade in the U.S., Steamhammer in Germany and Neat in the U.K. On the back sleeve of the Neat pressing, there is the mention "Licensed from Banzai Records".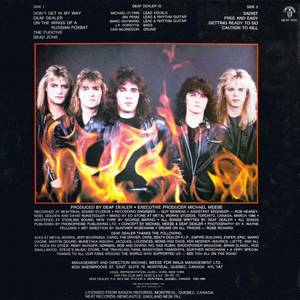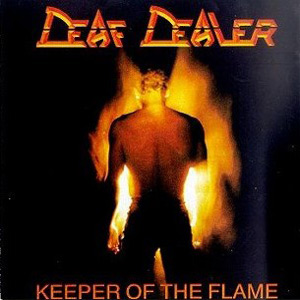 An oddity often found on ebay, is this double LP pressing of Helloween's first 2 releases, plus 2 bonus tracks. The catalog number (LP 20088) is a variation of the Noise Records re-release cd (N 0088) and the records have the same content. It mentions "Made in Canada" on the sleeve, with a Banzai logo variation and all, but it's only to make it look official. It is also mainly available from ebay sellers in Europe, never in Canada, where you would think many of these copies would be located today!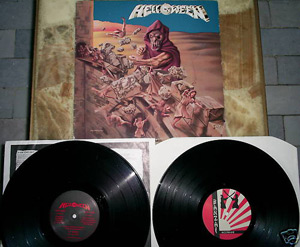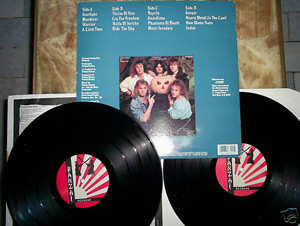 Since there may not exist a whole lot of Banzai ads and features from the past in the press, I'll start by adding them here. click for bigger version!
Banzai Advertisement and Michel Meese Interview, from Metallion #4, 1985
Metallica's Ride the Lightning ad, from Metallion #2, 1984
Venom's Canadian Assault ad, Insert flyer from the "Black Metal" Banzai release, 1984
A release sheet named Fact Finders of many (if not all) of the Banzai titles was supplied to record store dealers, as a promotional tool. Claude Doiron, a good friend of the site, has supplied me with photocopies of the ones he was able to collect many years ago. There are 7 in total. I've included them on each of the specific album's page, and I'll link them here for quicker access. Keep in mind those are scans from copies of copies, so the quality isn't the best.
BRC 1942 Destruction - Infernal Overkill
BRC 1955 Bathory - The Return...
BRC 1964 Celtic Frost - To Mega Therion
BRC 1972 Kreator - Pleasure to Kill
BAM 1003 Hellhammer - Apocalyptic Raids
BAM 1007 Celtic Frost - Morbid Tales
FORCE 1 Force of the Blade
2016-06-06 - Move to a new address!
There are 113 Banzai catalogue releases, but only 111 were released. The 2 missing ones were never released by Banzai. They were given a catalogue number, but something happened that cancelled the release, like the master tapes not being delivered. The titles still made the insert page, and that's why they are listed in the discography. If you own a copy, please contact me so I can acknowledge their existence!
BRC 1927 Savage Grace - Master of Disguise
BRC 1949 Oz - Fire in the Brain
I'm also not sure if I have every insert lyrics and photos sheets that were included with each release. I will post everything I own on each album's page. If you own these albums and have inserts that I haven't posted, I'd be interested in having a picture or a scan of them, to make these pages as complete as can be! Label colour variations of the first releases (if they exist!) are also welcome!
Needed is insert from:
BRC 1922 Axewitch - Visions of the Past (not yet confirmed insert exists for Banzai pressing)
Black label version of: BRC 1905, 1907, 1908, 1910, 1911, 1912
To everyone that takes the time to write, send me scans and info!
but mostly to:

Stéphane Giroux, Wayne Slipperjack, Jay Van Deventer, Jacques Pigeon, Sylvain Lafrenière, John Maffett, Terence Skytte, Steve "Mop" Desrosiers, Shawn Drumm, Hugo Beaulieu, Stefan Wik, Aaron Hoffman, Matt Knopp, Evil Eye Ron, Ronald McGregor, Major Warfare, Cindy Steel, Claude Doiron, Annick Giroux, Sylvain Latour, Jørgen Rødli
my e-mail You can write in english or french.
Banzai Records facebook page. Created by Jay Van Deventer. A great place for everything Banzai! You can also post pics of your Banzai record collection! This also includes The Banzai Records Companion Another creation of Jay Van Deventer. A Fanzine dedicated to the greatest metal label of all time! Complete with reviews of all the Banzai titles. Copies are $5 each + $2.50 s/h in Canada. e-mail Jay for info and to order a copy.
Banzai Records Collectors facebook page. A private group created by Marc Fortin. A great place to meet fellow collectors, offer Banzai records for sale, and general inquieries about items' rarity and value!
The Banzai Discogs page. Very interesting for acquiring Banzai copies, as each individual release is linked to the marketplace.
The Corroseum A fine place for anything regarding '80s underground metal. Their labels section has complete discographies of nearly all the small and medium labels from the era. I love the Banzai page.